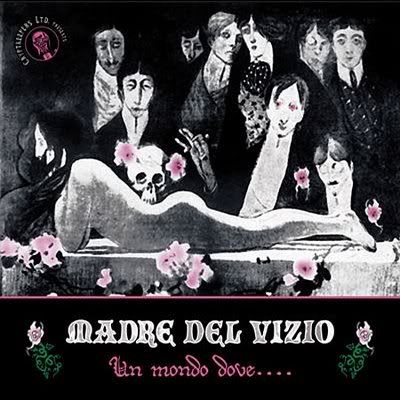 Género: Death Rock
País: Italia
>> ** Recomendación **:
Si os gusta el death rock y encima cantado en italiano se convertirá en vuestro disco perfecto. Un disco con los temas más representativos de esta banda. Ideal para aquel/aquella que no los conozca todavía. Espero que os guste.
>> Comentario De Diskpol:
La leyenda del gótico retorna con esta colaboración entre los sellos Apollyon y Musique Indépendante Noire.
Desde su tema 'Amore, Fede, Speranza' que apareció en el recopilatorio de Zillo 'German Mystic Sounds Vol. 2' se convirtieron en la única banda Alemana que despuntaba en aquellos días. En 1990 grabaron su primer LP compartido con 'Les Fleurs Du Mal' (ahora Engelsstaub), continuando con su tema 'Madre' en el recopilatorio en 7" 'Death By Dawn'.
En 1992 editaron su emblemático CD 'Dio!Dio!Dio!', posteriormente 'The Crypt' y 2 MCD's: 'Feast Of Blood' y 'All Around…', tras lo cual su historia acaba abruptamente en 1997, cuando la banda se disolvió.
En 'Un Mondo Dove....' aparece la esencia de estas ediciones. Desde su 'Carcerazione = Morte' grabado en exclusiva en 1997 para el recopilatorio 'The New Face Of Apollyon', su última grabación, hasta todos sus éxitos cuidadosamente remasterizados.
01. Amore, Fede, Speranza
02. Bestie Metalliche
03. Un Mondo Dove...
04. Madre
05. Paura
06. Trivialita
07. Visione I
08. Magico
09. Visione II
10. Tenebre
11. Stanza
12. Entra Nel Mondo
13. Reprise (Capella Vergine Mix)
14. Sudore E Sangue
15. Carcerazione = Morte